Weekend Watch: April 12-14
It's a busy weekend in Carolina athletics, with the football festivities and several spring teams in action in Chapel Hill.
Football concludes the spring practice season with the annual spring scrimmage. Make a full day of it, with the Bell Tower Park opening at 11, an autograph session at 12:45, and the game at 3. The new Tar Heel uniforms will be unveiled and on display outside the Kenan Football Center. During the first quarter of the game, Giovani Bernard will be presented with the College Football Performance Awards' punt returner of the year award, which is awesome. Jeff Saturday will be honored during the third quarter. Check out the end zone picture posted by the Carolina grounds crew on Twitter.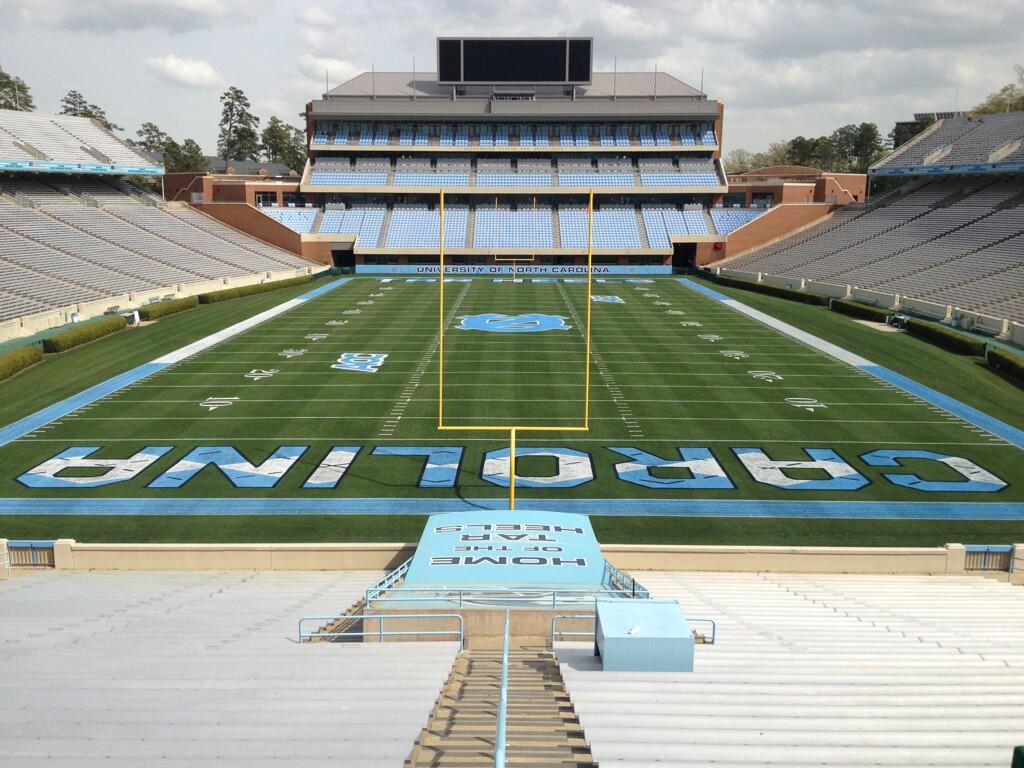 Men's tennis hosts a pair of teams from the Sunshine state this weekend. On Friday at 3, they'll square off with Miami. Sunday at 1, it's the Florida State Seminoles.
Meanwhile, #1 women's tennis does the opposite. They're at Miami Friday at 5, and Florida State Sunday at noon.
It's Senior Night for women's lacrosse. They host Jacksonville Friday at 7 on GoHeelsTV.
Men's lacrosse is at Hofstra Saturday at 7.
Baseball is at Virginia Tech for a three-game set with the Hokies. They'll play Friday at 5:30, Saturday at 1, and Sunday at 1. Audio from the games is available here.
Softball hosts North Carolina State this weekend. It's a double header Saturday at 1 and 3 (ESPN3), and the series finale Sunday at 1 (ACCDN).
Track hosts the Joe Hilton Invitational Saturday.
Rowing is at the Knecht Cup in Camden, New Jersey Saturday and Sunday.
Diversions
Former Tar Heel Alex White underwent Tommy John surgery, and yesterday tweeted a post-op pic.
ECU broadcaster Jeff Charles, who has stage-three colorectal cancer,  called the Pirates' magical finish in the CIT.
With The Masters this weekend, Steve Politi asks, 'How does Arnold Palmer order an Arnold Palmer?'
Here's a great Wall Street Journal story on the Hershberger Award, college basketball awards made up by some college students.